Hardscaping installs for New Albany, IN, Jeffersonville, IN, and nearby areas.
With high-quality materials, we install various hardscaping projects such as seating walls, fire pits, pergolas, and more.
In New Albany, IN,we enjoy many beautiful days and evenings throughout the year. Enjoy those times even more with a high-quality, beautiful outdoor living space. To achieve this outdoor living space, our hardscaping contractors can help you plan out and design various projects such as fire pits, patios, pergolas, seating walls, and more with durable materials.
We design and install hardscaping for residential, commercial, and HOA customers throughout the areas of New Albany, IN, Louisville, KY, Jeffersonville, IN, and nearby cities in Harrison County, IN and Floyd County, IN.
---
Patios and walkways add usable space to your yard and keep foot traffic off of your grass.
A valuable addition to any outdoor space, custom patios and walkways can increase the usable space in your Louisville, KY yard while also reducing foot traffic on your grass. We build patios and walkways from materials such as flagstone and concrete pavers. Patios can be made in any shape or size, and we work with you to choose pavers or stones that match the outside of your property.
---
Add retaining walls and seating walls for decorative and functional elements in your landscape.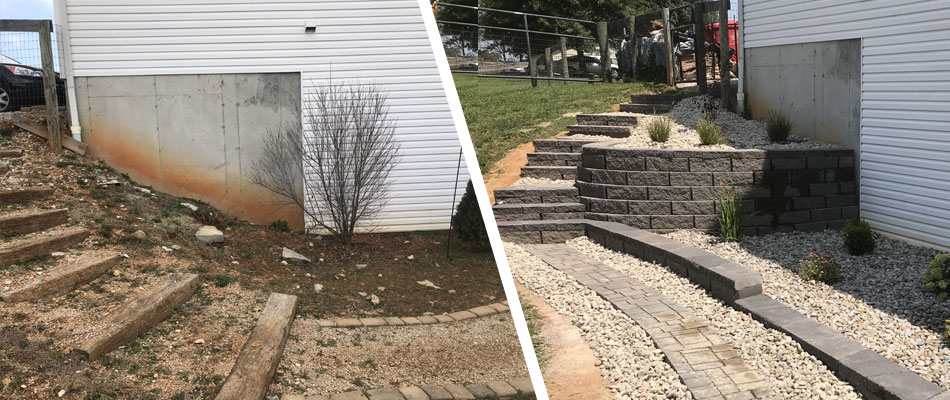 Used for both functional and decorative purposes, retaining and seating walls can add depth to your overall landscape design. Both are made from either wall blocks or stone, and our company can also install boulder walls. Learn more about these elements:
Retaining walls: Retaining walls can be used to prevent soil erosion or to create an elevated planting bed. We construct these walls at a height of seven feet or less.
Seating walls: Seating walls are typically added around a patio or fire pit to increase the seating within your outdoor living space.
We also install stone steps, made from flagstone, retaining wall blocks, full concrete blocks, or Siloam stone.
---
Outdoor lighting highlights features in your landscape as well as on your home or business.
Consider installing a custom LED outdoor lighting system as well so that you can spend more time in your Jeffersonville, IN outdoor space once it gets dark outside. Landscape lighting can highlight key features in your yard and around your home or business, as well as increase safety and security throughout the property.
We do new outdoor lighting installations as well as converting your existing architectural lighting system to LED lights. We use LED as it is more energy-efficient, eco-friendly, and provides brighter overall light.
---
Fire pits and fireplaces provide an area to gather and entertain guests, friends, and family.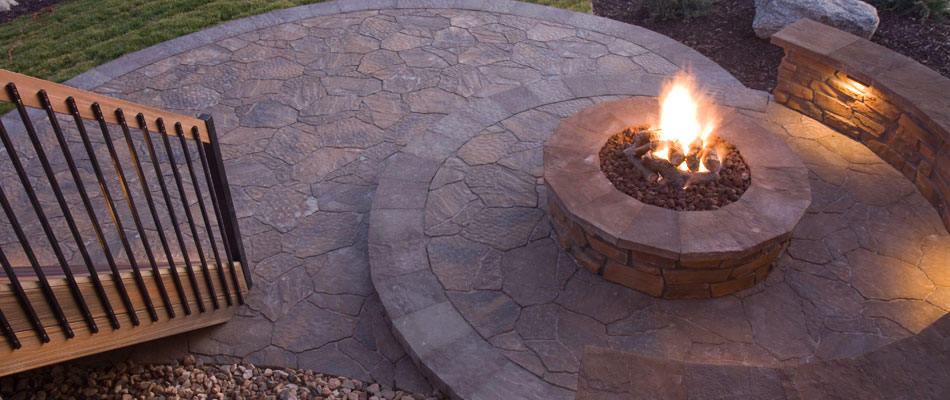 Our fire pit contractors can build a fire feature in your outdoor area that is completely customized to your space. Fireplaces and fire pits are built with fire-resistant materials such as concrete and are wood-burning, creating a great atmosphere where you can entertain guests, friends, and family as they gather around the fire on a cool autumn evening.
---
Considering a new addition to your outdoor living space in New Albany, IN ? Call us today!
If you're considering adding a new hardscaping element to your outdoor living space in New Albany, IN, Louisville, KY, Jeffersonville, IN, or nearby areas, we can help. From patios to pergola construction, we can help you design a space that is truly yours. We also provide hardscape cleaning and sealing services. Call our hardscaping company today at (812) 972-6163 to set up an estimate.