Landscaping services for properties in New Albany, IN, Jeffersonville, IN, and surrounding areas.
From start to finish, we communicate with our landscaping customers every step of the way for a seamless landscape installation process.
When you choose Sean's Lawns LLC to be your landscape company, we provide a seamless process from design to installation to maintenance. Our crews specialize in landscape care and will communicate with our customers every step of the way to ensure we stay on time and on budget.
Our landscaping services are available for homes, businesses, and HOAs in New Albany, IN, Jeffersonville, IN, and other areas within Harrison County, IN and Floyd County, IN.
---
Our landscape design process includes an initial consultation, 3D design, and design approval.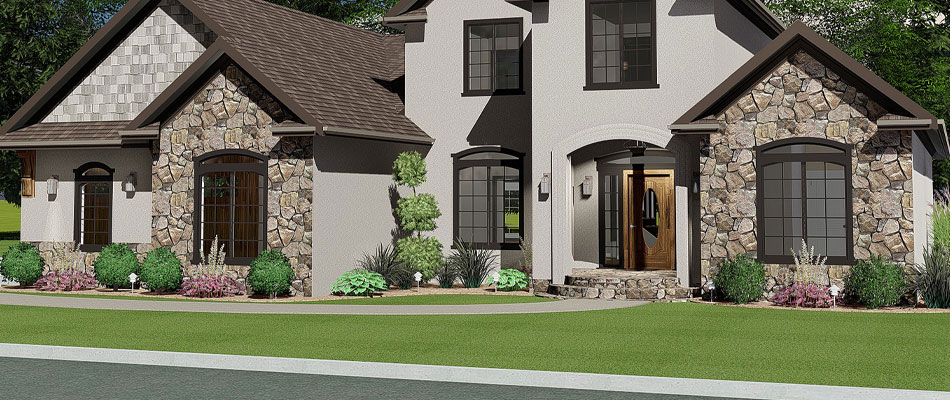 When we are contacted to consult on a new landscape installation or bed renovation, we sit down for an initial consultation with the customer to assess their needs and wants, as well as discuss their budget and timeframe for the project. Once we have those in place, our team then uses Realtime Landscaping software to create a 3D design that will show the property owner exactly how their new landscape will look upon completion. While designing, we consider design elements such as:
Focal points
Plant maturity
Symmetry/balance
And more!
Once the design is approved by the customer, our installation team comes in to begin planting any softscaping materials.
---
Installing softscaping involves planting shrubs and adding mulch or rock ground cover.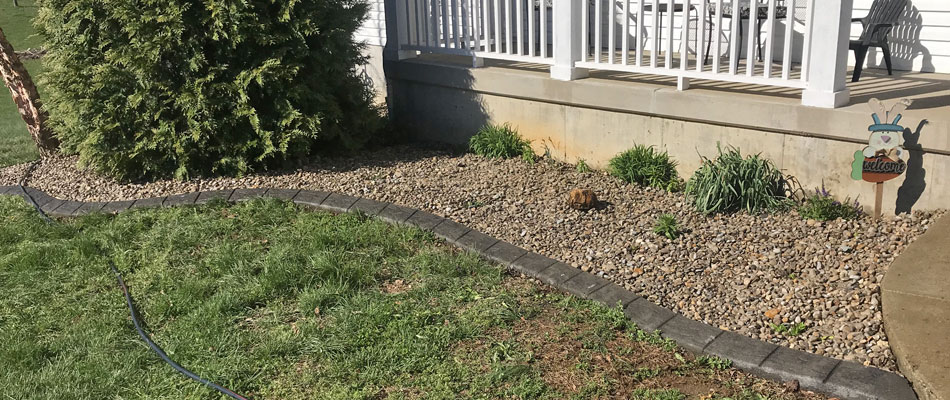 When we install softscaping, or planting beds, we try to use low-maintenance plants that are proven to grow well in our USDA hardiness zone. We plant perennial shrubs as well as other shrubs that provide a constant green color. Plants we often use include:
Boxwood
Liriope
Arborvitae
Hydrangeas and other perennials
Low-maintenance plants are more eco-friendly and require fewer resources to keep them thriving in their environment.
Once the plants have been installed, our landscape contractors will put down mulch or rock ground cover. When ground cover is properly installed, it provides many benefits for landscape beds like preventing weed growth, stopping soil erosion, insulating the soil, and more. Types of mulch we can install include brown, black, and red hardwood, as well as cedar and pine straw. Popular rocks we use are river rock, solite rock, cranberry granite, and lava rock.
---
Landscape maintenance tasks include weed control, trimming, and pruning.
To help protect your investment in your landscaping, we also offer landscape maintenance services. These services provide overall upkeep of your landscapes and ensure they will be as healthy as possible. Included in our landscaping maintenance services are:
Landscape bed weed control: If we see weeds in your planting beds, we will spray them and hand pull them.
Trimming: Trimming is typically done twice a year in the spring and fall to shape your shrubs and bushes.
Pruning: Pruning, done for the health of the plant, is offered twice a year as well.
Mulch replenishment: We replenish your mulch as needed, usually in the spring and fall, to keep it protected throughout the year. Rocks shouldn't require replenishment unless an area needs to be filled in over time.
---
Do you need new landscaping at your property? Contact us today!
When it comes to landscape installation, the team at Sean's Lawns LLC has the experience needed to help you create a landscape that is customized to you. We work with residential, HOAs, and commercial properties in New Albany, IN, Jeffersonville, IN. and other areas in Harrison County, IN and Floyd County, IN. If you need landscape design, installation, or maintenance, contact us today at (812) 972-6163 for a consultation!